Serves 2-4 • 2 hours with prep
Pixie Marmalade Cake
Soak up the sunshine with this Pixie "Sunrise" marmalade inspired treat.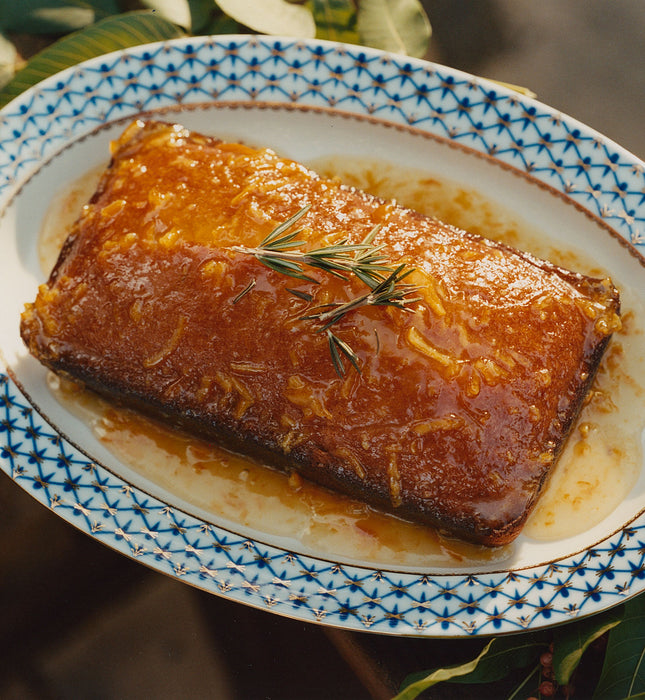 INGREDIENTS
1- Pixie Marmalade - 1.5 10oz Jars
2- Unsalted Butter - 3/4 Cup, Room Temperature
3- Granulated Sugar - 2/3 Cup
4- Meyer Lemon - 2 Teaspoons Lemon Zest
5- Pixie Tangerine - 1/2 Teaspoon Tangerine Zest
6- Pixie Tangerine Juice - 2 Tablespoons
7- Eggs - 3 Large
8- All-Purpose Flour - 3/4 Cup
9- Baking Powder - 1/2 Tablespoon
10- Sea Salt, Fine - 1/2 Teaspoon
11- Confectioners Sugar - 2 Tablespoons
INGREDIENTS
3/4 Cup, Room Temperature
1/2 Teaspoon Tangerine Zest
STEPS
1
Set the oven for 350F and set your Pixie marmalade aside to sit at room temperature.
2
Prep a 9 by 5 inch loaf pan by greasing it with softened butter.
3
Using an electric mixer, mix together the softened butter, Meyer zest, Pixie zest and sugar until everything fluffs up into an airy mix. It should take about 5 minutes. Add the eggs individually until they're entirely mixed in. Mix in 1/3 cup of our Pixie "Sunrise" marmalade and the Pixie juice.
4
Using a large mixing bowl, mix together the flour, baking powder and salt. Work all the ingredients until everything is blended as evenly as possible.
5
Add the batter into your greased loaf pan. Place in oven and bake until the cake gets a golden coloring on the surface.
6
Using a toothpick or a thin knife edge, check to see if the cake is done by sticking either in the center of the cake. It should come out clean after a little less than an hour depending on your oven.
7
Remove the pan and let the cake cool. After 15 minutes, you should be able to flip the cake on a serving plate that's big enough to catch the marmalade glaze.
8
Warm up the last of the marmalade in a small cooking pot over low heat. When the marmalade looks runny and fluid, mix in the rest of your softened butter and confectioners' sugar. Whisk until smooth.
9
Glaze the top of the cake with your Pixie marmalade mix, letting the excess to run across the sides. Let the cake cool entirely over a couple hours before cutting and serving.
SERVING SUNSHINE
Delight in our sweet and tangy marmalade, exclusively handmade with fresh Ojai Pixie Tangerines from Marmalade Grove. Grown under the Californian sun, our thousand little suns taste bright with every bite. 
SHOP MARMALADE
Choosing a selection results in a full page refresh.
Press the space key then arrow keys to make a selection.