Serves 2-4 • 30 minutes with prep
Pixie, Cara Cara & Radish Salad
A brightly-flavored, citrus-centric salad with kaleidoscopic flavor.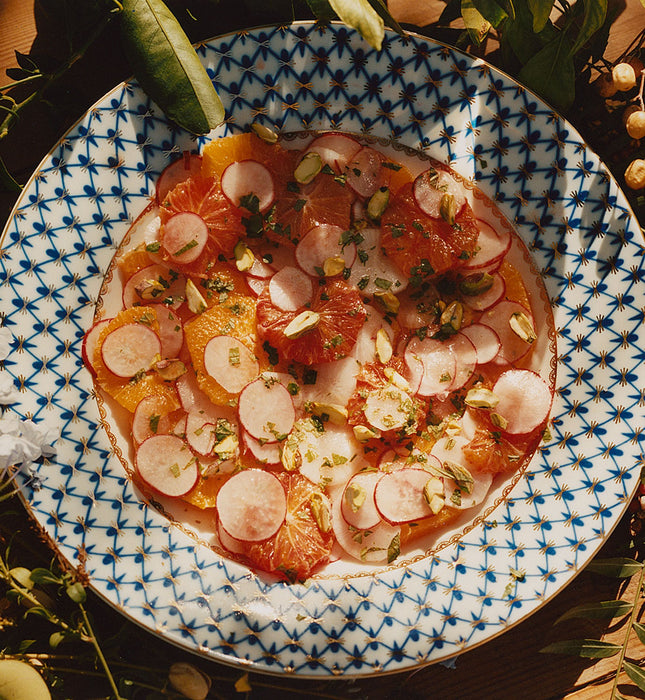 INGREDIENTS
1- Pixie Tangerines - 2 Tangerines
2- Cara Cara Oranges - 2 Oranges
3- Red Radish - 1 Bunch
4- Fresh Mint - 1 To 2 Tablespoons, Chopped
5- Meyer Lemon Juice - 3 Tablespoons
6- Roasted Pistachio Oil - 2 Teaspoons
7- Daikon - 1/3 Bunch
8- Unsalted, Toasted Pistachios - 1 Medium Handful
9- Agave Nectar - 1 Teaspoon
10- Kosher Salt - Season To Preference
INGREDIENTS
1 To 2 Tablespoons, Chopped
Unsalted, Toasted Pistachios
STEPS
1
Thinly slice all radishes with a mandolin. Set aside in a bowl.
2
With a small, sharp knife, cut peel and white membrane from Cara Cara and Pixie Tangerines. Slice the oranges and tangerines crosswise into rounds. Save the juice.
3
Place all the slices in a bowl with their juice. Add the chopped mint and a pinch of salt. Gently mix together and set aside.
4
Whisk the lemon juice, agave, cayenne, cinnamon, and pistachio oil.
5
Pour half of the lemon mixture on the tangerines and Cara Cara, mix well and then do the same with the remaining lemon mixture on the radishes.
6
Roughly chop the pistachios.
7
Layer tangerines and Cara Cara slices with the radishes on a plate.
8
Dress with the remaining juice from all the bowls with a sprinkle of salt, mint, and pistachios to garnish.
SERVING SUNSHINE
Delight in our sweet and tangy marmalade, exclusively handmade with fresh Ojai Pixie Tangerines from Marmalade Grove. Grown under the Californian sun, our thousand little suns taste bright with every bite. 
SHOP MARMALADE
Choosing a selection results in a full page refresh.
Press the space key then arrow keys to make a selection.